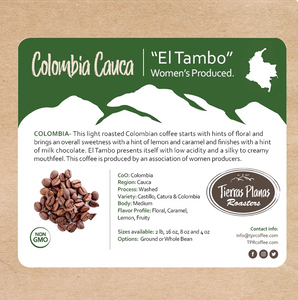 Colombia Cauca "El Tambo" Women's Produced (2020)
This light roasted Colombian coffee starts with hints of floral and brings an overall sweetness with a hint of lemon and caramel and finishes with a hint of milk chocolate. El Tambo presents itself with low acidity and a silky to creamy mouthfeel.
This coffee is produced by an association of women producers that highlights quality coffees where women own and operate the farms and production.  The mission of the women is to improve the quality of their families' lives through coffee farming. They also strive to contribute positively to their communities by sharing knowledge, support, and resources with one another.

CoO: Colombia
Region: Cauca
Process: Washed
Variety: Castillo, Catura & Colombia
Body: Medium
Flavor Profile: Floral, Caramel, Lemon, Fruity

Sizes available: 2 lb, 16 oz, 8 oz and 4 oz
Options: Ground or Whole Bean